How to Use Social Media for Recruitment
Social media has become an essential tool for businesse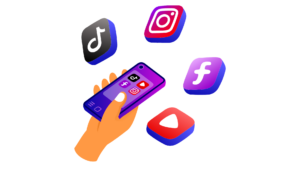 s of all sizes, and recruitment is no exception. In fact, a recent study found that 92% of recruiters use social media to find candidates.
There are many benefits to using social media for recruitment. It can help you:
Reach a wider audience of potential candidates
Target your recruiting efforts to specific demographics
Build relationships with candidates before they apply for a job
Show off your company culture and attract top talent
If you're not already using social media for recruitment, now is the time to start. Here are some tips to get you started:
Choose the right social media platforms. Not all social media platforms are created equal when it comes to recruiting. LinkedIn is the most popular platform for recruiters, but you may also want to consider using Facebook, X, and Instagram.
Create a strong social media presence. Your company's social media profiles should be well-maintained and up-to-date. Make sure to post interesting and engaging content that will attract potential candidates.
Use relevant hashtags. Hashtags are a great way to get your job postings seen by more people. When you post a job opening, be sure to use relevant hashtags that potential candidates would use to search for jobs.
Engage with candidates. Don't just post job openings and then disappear. Take the time to engage with candidates who comment on your posts or reach out to you. This will help you build relationships and make your company more attractive to potential employees.
Use video. Video is a powerful way to tell your company's story and attract potential candidates. Share videos of your company culture, employee testimonials, or behind-the-scenes footage.
By following these tips, you can use social media to find and attract top talent for your company.
Here are some additional tips:
Use a consistent brand voice and messaging across all social media platforms.
Be transparent about your company culture and values.
Share positive stories about your employees and company.
Respond to comments and questions promptly.
Run social media contests and giveaways to attract attention.
Partner with influencers in your industry to reach a wider audience.
Social media is a powerful tool that can help you find and attract top talent for your company. By following these tips, you can use social media to build a strong recruiting presence and attract the best candidates.
https://www.everestrecruiting.com/wp-content/uploads/2023/08/USAEverest-Blog-Pics-20.png
1080
1920
jake h
http://www.everestrecruiting.com/wp-content/uploads/2020/08/Everest-Logo-Elements-04-1030x254.png
jake h
2023-09-12 19:34:57
2023-08-31 14:17:11
How to Use Social Media for Recruitment